WATCH FOR THESE EVENTS IN 2023
+ Read Between the Wines – **Postponed – New date to be announced.**
+ Banking on Literacy event – Spring 2024 – TBA
**Postponed – New date to be announced.**
Join us for a special Literacy Legacy Fund of Michigan event, "Read Between the Wines", on Wednesday, November 8, 2023, from 6 – 8 pm at The Mather, 107 E Canda St, Ishpeming, Michigan. The evening will feature food and wine pairings, history, and literacy to benefit LLF Michigan projects. 
Guests will enjoy a special Anatomy of a Murder theme for the evening's brief readings and atmosphere. Business, business casual or theme attire encouraged. Seats are limited with tickets $80 per person or $150 per couple. To reserve your tickets, please visit Eventbrite, scan the QR code, or email llfsocialmichigan@gmail.com to reserve your tickets.
Eventbrite Tickets: https://www.eventbrite.com/e/read-between-the-wines-tickets-736607040487?aff=oddtdtcreator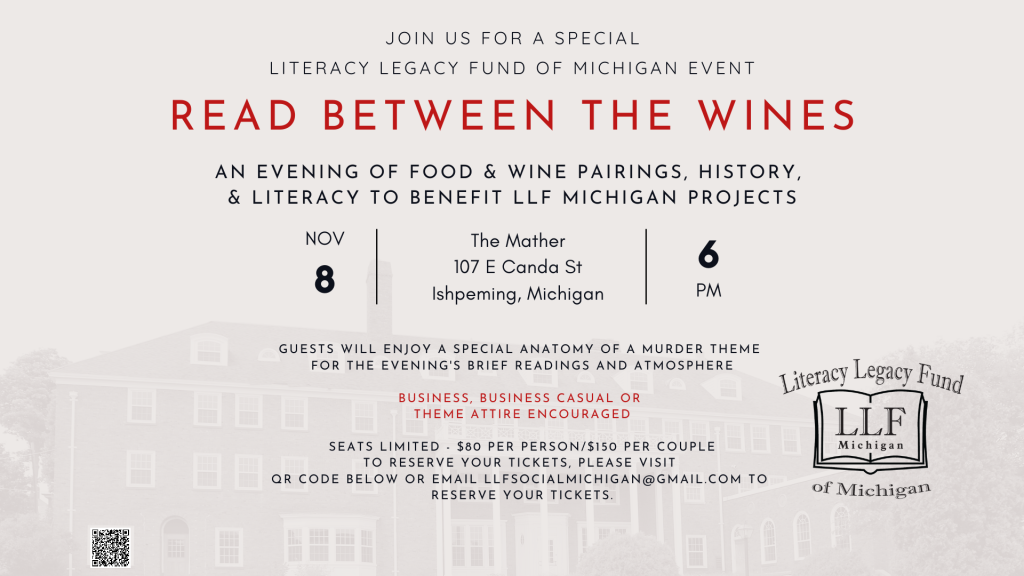 Banking on Literacy event: Hidden Talent Show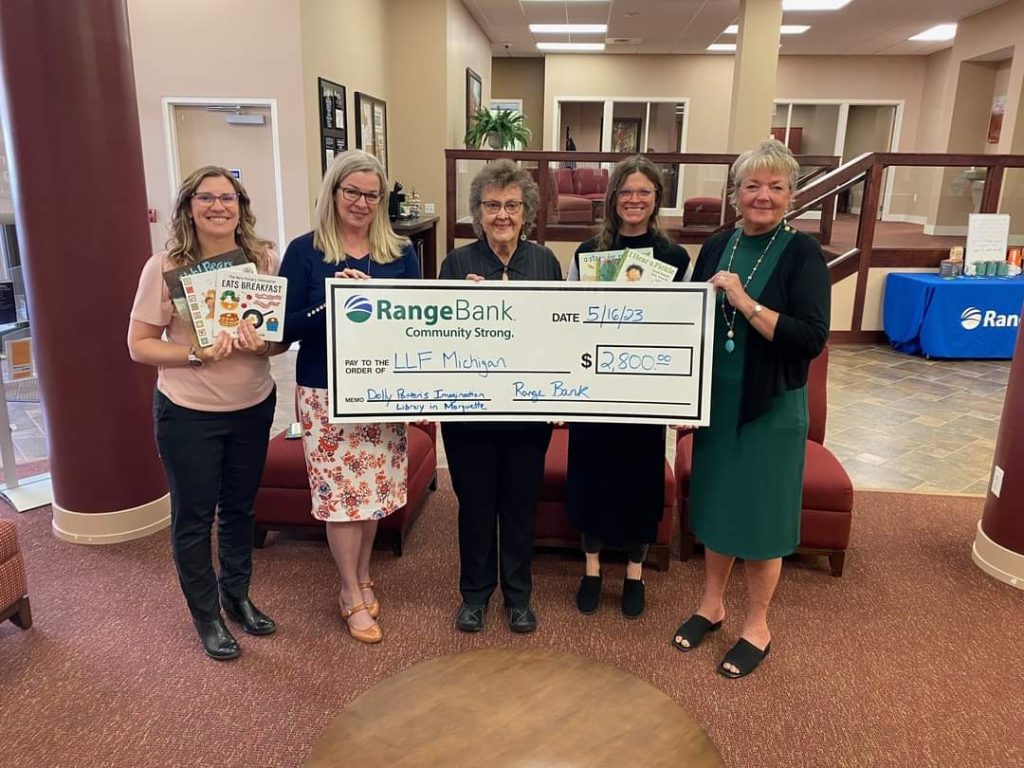 Literacy Legacy Fund of Michigan (LLF Michigan) President and Board Chair Nancy Seminoff received a donation from Range Bank from its recent Banking on Literacy: Hidden Talent Show event spring 2023. Range Bank has hosted a Banking on Literacy event annually to support LLF Michigan and Dolly Parton's Imagination Library 49855 to provide free books to children under the age of five. The spring 2023 event featured a talent show format, highlighting local community members and their hidden talents. Pictured left to right, Hanna Westra, Range Bank marketing coordinator, Amy Buck, Range Bank financial advisor, Nancy Seminoff, LLF Michigan president and board chair, Kim Erickson, Range Bank marketing director and Kelly Jandron, Range Bank VP, branch administration officer.
All proceeds for this event benefited Dolly Parton's Imagination Library in Marquette, a program that provides FREE books to children ages 0-5 in the 49855 zip code.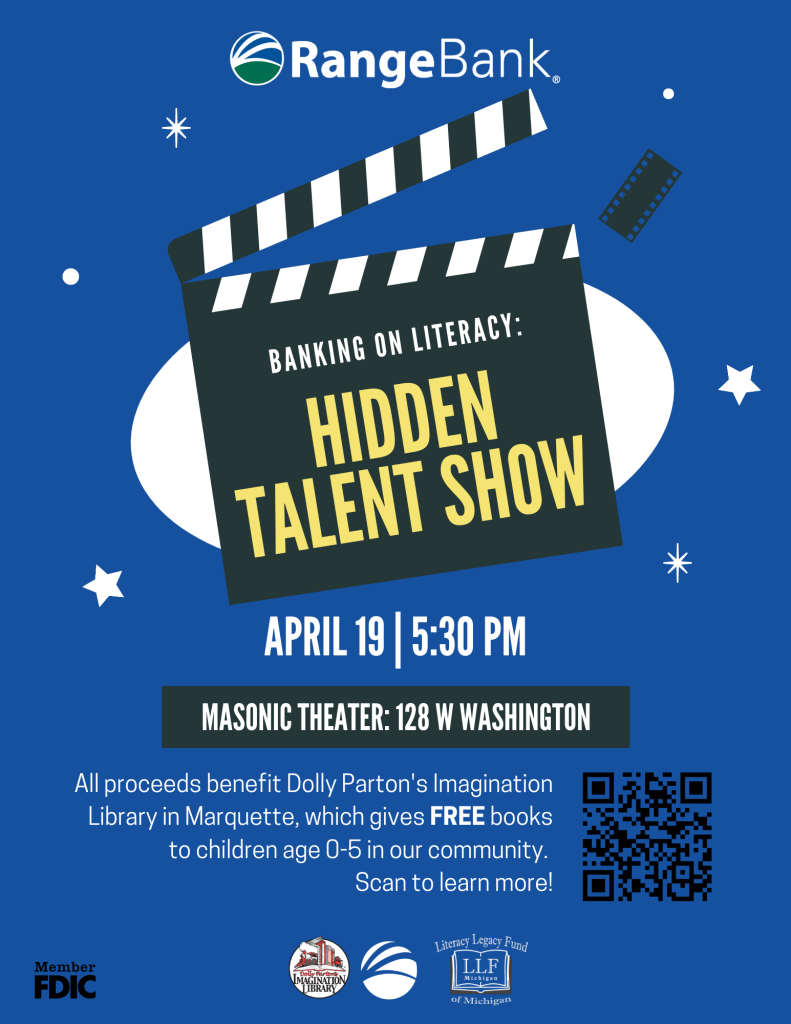 As part of Giving Tuesday, the Literacy Legacy Fund of Michigan stopped by some local libraries to drop off a special new release hardcover copy of The First Notes: The Story of Do, Re, Mi by authors Julie Andrews and daughter, Emma Walton Hamilton. It tells the story of how music was first written so others could learn and share. Do-Re-Me is a song that many people know from the Sound of Music. Through this book, children and adults learn about music and the history behind written music. The Special Projects Recipient page features photos and more information on this event.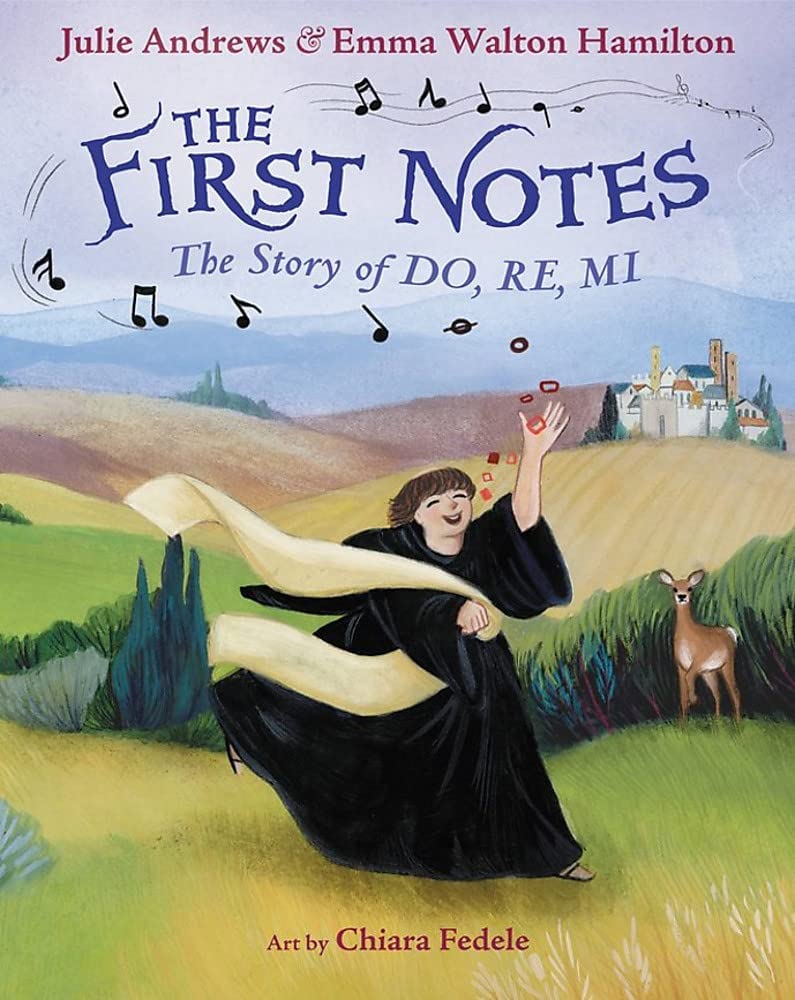 Banking on Literacy – June 14, 2022 at Range Bank, Marquette
Marquette Monthly Article (December 2021):
Fueling Imagination
TV6 Story:
Literacy Legacy Fund of Michigan gives update on Dolly Parton's Imagination Library of Marquette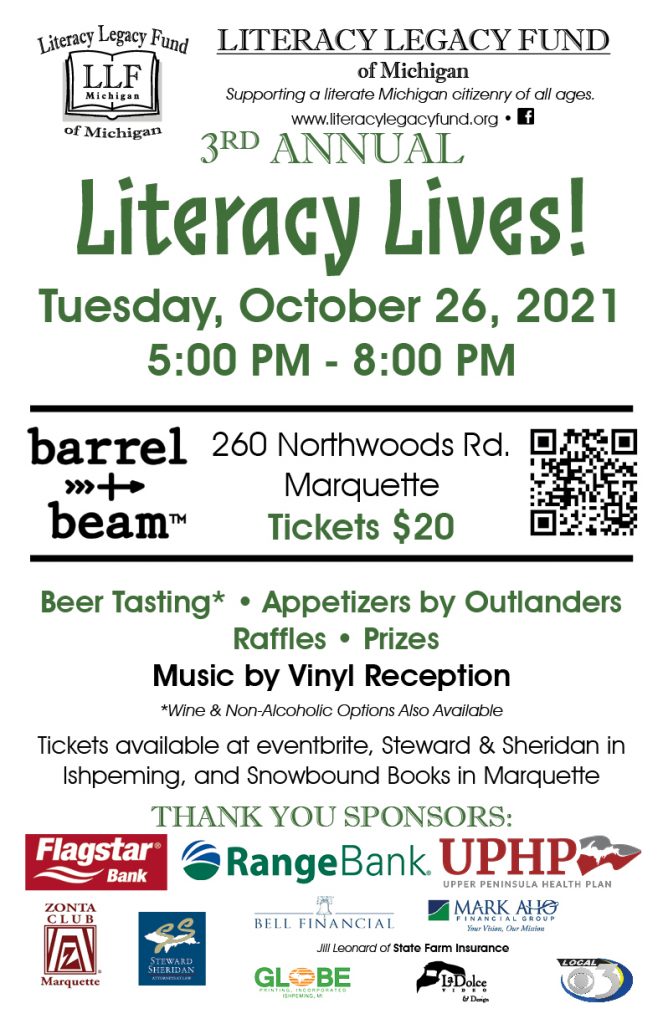 THANK YOU TO ALL OUR GENEROUS SPONSORS AND DONORS!!
The Literacy Legacy Fund of Michigan thanks the following sponsors and donors for contributing to the success of the recent Third Annual Literacy Lives event at the Barrel + Beam Brewery, and appreciates those who attended this event, donated individually, and volunteered.
FINANCIAL AND MARKETING SPONSORS
Flagstar Bank – Third Street Branch, Range Bank, UP Health Plan
Bell Financial Services, Mark Aho Financial Advisors, Steward & Sheridan Attorneys at Law, Zonta Club-Marquette; Jill Leonard-State Farm Insurance.

DONORS
231 West Patisserie, Barrel + Beam Brewery, Culver's, dunworkin-Petoskey, Domino's Pizza, Donckers – Marquette, Econo Foods-Tadych's, everydaywines & Zephyr winebar, Globe Printing, Jean Kay's Pasties & Subs, Jandron's Fine Jewelry, Kentucky Fried Chicken, Landmark Inn, Mackenzie's on the Avenue-Mackinaw City, Mackinaw Clothing-Mackinaw City, Mares-Z-Doats, Marthaler Buick GMC– Marquette, Michigan Made, Doug Miller, Nicolet National Bank-Marquette, Portside Inn, Range Bank, Red Lobster, Roxanne Daust, Snowbound Books, Sol Azteca, Synergy Fitness, Thill & Sons Fish House, Thomas Theatre, Vierling Restaurant & Marquette Harbor Brewery, Yard Builders, Yooper Shirts, Young's Tire Brake & Alignment.
And thank you to everyone in the community who worked to make this a very successful event. We value your ongoing support.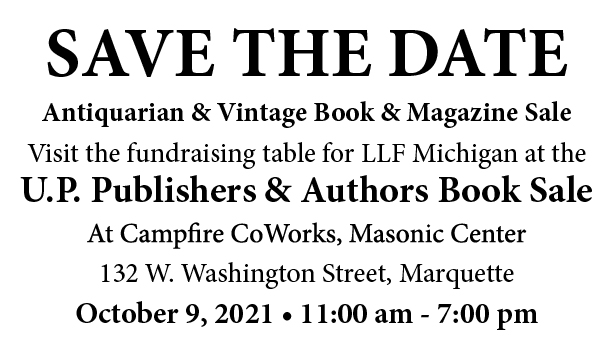 Dolly Parton's Imagination Library is a book gifting program that mails free age-appropriate books to children from birth to age five. LLF Michigan is pleased to be the "local champion" and affiliate supporting the book and mailing costs for this specific Marquette 49855 geographic area. 
Children who reside in the 49855-zip code are eligible for enrollment.  It can take 8 – 10 weeks after LLF Michigan receives the registration form for the child to receive the first book. Note: Registration is available NOW!.  Questions can be sent to llfsocialmichigan@gmail.com.
You can support one or more children for this program by donating in increments of $25.  Please note the DPIL MARQUETTE 49855 if you donate online to properly credit your donation.
Visit the Special projects recipients page to learn more about the DPIL library in the AuTrain Onota Public Schools area.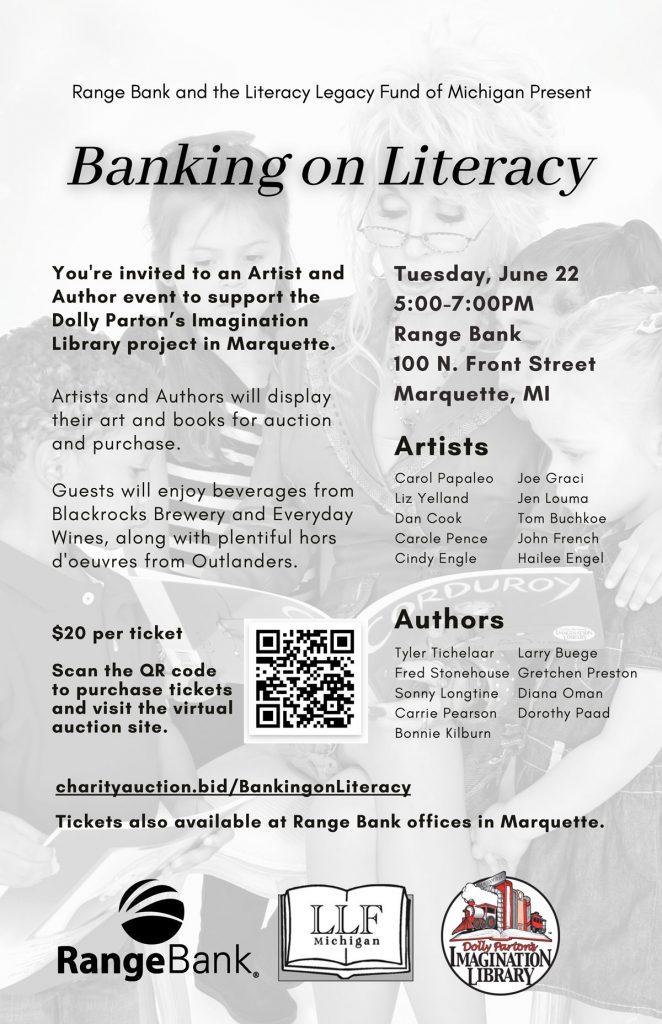 Third Annual Literacy Lives Fundraiser – Postponed

Literacy Lives – spring 2020 Fundraiser Postponed Until We Can Safely Gather

SPECIAL ANNOUNCEMENT
 We are committed to doing our part to protect the health and safety of our community.  And we value you and your ongoing support of our mission.
Due to the impact of the Covid-19 in and around Marquette our fundraising team has decided to postpone all fundraising events until we can safely gather and socialize.  Please watch for our new save the date announcement and posters in the community, our Facebook page and on this page on our website. 
Our hearts go out to each and every one of you during this time of uncertainty.  And, it is our wish that you, your family & friends remain healthy.
Typical Fundraising Event Details: Beer tasting, wine available, catered by Outlanders of Marquette.  Many bucket raffle baskets will be available for bidding.  Ticket information will be available once a new date has been set.  We can't wait to see you again at one of our events!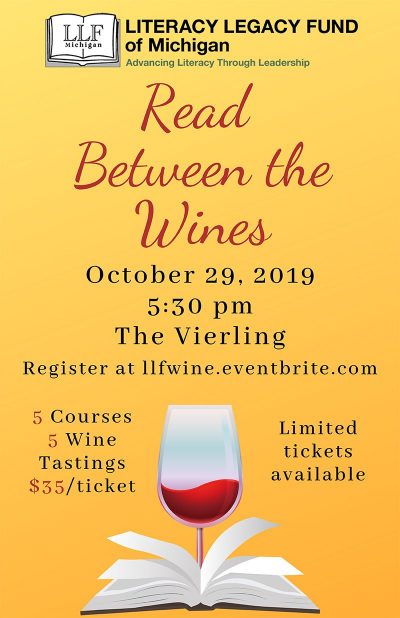 ---
Read Between the Wines – October 29th, 2019
Thank you to everyone who came out to our Read Between the Wines event at the Vierling Restaurant. We hope you had a great time!
Your feedback helps make the future events even better!  We appreciate your support.
---
Literacy Lives – April 30, 2019
Back by popular request, this event was held at the Barrel & Beam from 5:30 – 7:30 p.m. and featured hors d'oeuvres, beer tastings, and entry into a drawing for a door prize. In addition, there were many baskets for a bucket raffle and an opportunity to hear briefly from 2018 grant recipients.
Two U.P. authors, Adam Berger (historical articles for the Mining Journal) and Bonnie Kilburn (author of Just Imagine) were available for conversations about their writings.
We are grateful for the generous support of the following sponsors : Range Bank, UP Health System, UP Health Plan, Mark Aho Financial Group, Steward & Sheridan, Bell Financial, Pomp's, MBank.
---
Read Between the Wines – November 8, 2018
Marquette Regional History Center
"Read Between the Wines", held on November 8, 2018, was a collaborative fundraiser to support literacy & local history education (Marquette Regional History Center).  TV6 Upper Michigan Source interview – watch.  And, view a few event highlights here.
This event is sponsored by: Cowell & LaPointe, LaDolce Video & Design, Mark Aho Financial Group, River Valley Bank, Upper Peninsula Health Plan (UPHP), Jim LaJoie (MRHC Board Member), Vast, Graybill & Mead, PLLC. 
---
Literacy Lives! – April 10, 2018
Barrel and Beam, Marquette Township
We are grateful to our sponsors (listed below), Barrel + Beam and all attendees!  The proceeds from this event will support literacy initiatives in Marquette County.  Photos
Thank you for your support!
UP Health System                         UPHP (Upper Peninsula Health Plan)
Mark Aho Financial Group           Animal Medical Center of Marquette
Superior Dental Care                      Range Bank
There were many door prizes, including a stay at Nestledown B & B and dinner at the Vierling Restaurant.
We appreciate your support of the Literacy Legacy Fund of Michigan. The upcoming October 26, 2021 event is likely to sell out once again at the Barrel+Beam. We want to offer you the first opportunity to purchase tickets at Steward & Sheridan in Ishpeming, Snowbound Books in Marquette, or at eventbrite.com.