2020 Special Project Recipients
Dolly Parton Imagination Library
Dolly Parton Imagination Library provides a child through his/her 5th birthday with an age appropriate book in the mail monthly.  These are high-quality books that are chosen by experts in the education and writing field and are based on the child's age.  The children served by the AuTrain-Onota Public Schools enrolled in the DPIL will receive their first book in the June 2020 mailing. 
According to Bryan Tyner, District Administrator, "AuTrain-Onota Public School administrators and school board members are excited about our new partnership with the Literacy Legacy Fund of Michigan and The Dolly Parton Foundation!  Together we will help promote early literacy in our rural community…"
LLF Michigan is the "local champion" supporting the book and mailing costs monthly.  This is the first DPIL in Marquette County.  There are approximately 50 DPIL projects in Michigan.
Pictured below are Bryan Tyner, District Administrator, Nancy Seminoff, LLF Michigan Board Chair, Phyllis Aurich, Secretary and local children at the February kickoff at AuTrain-Onota Public Schools.  The second photo shows a mother registering her children.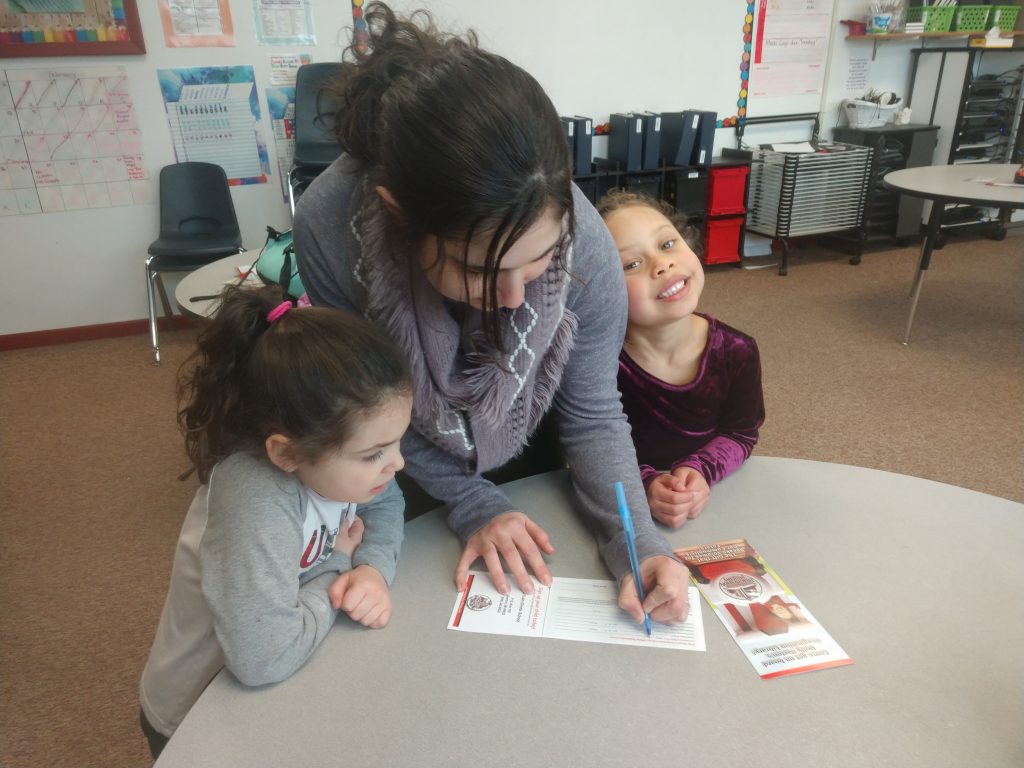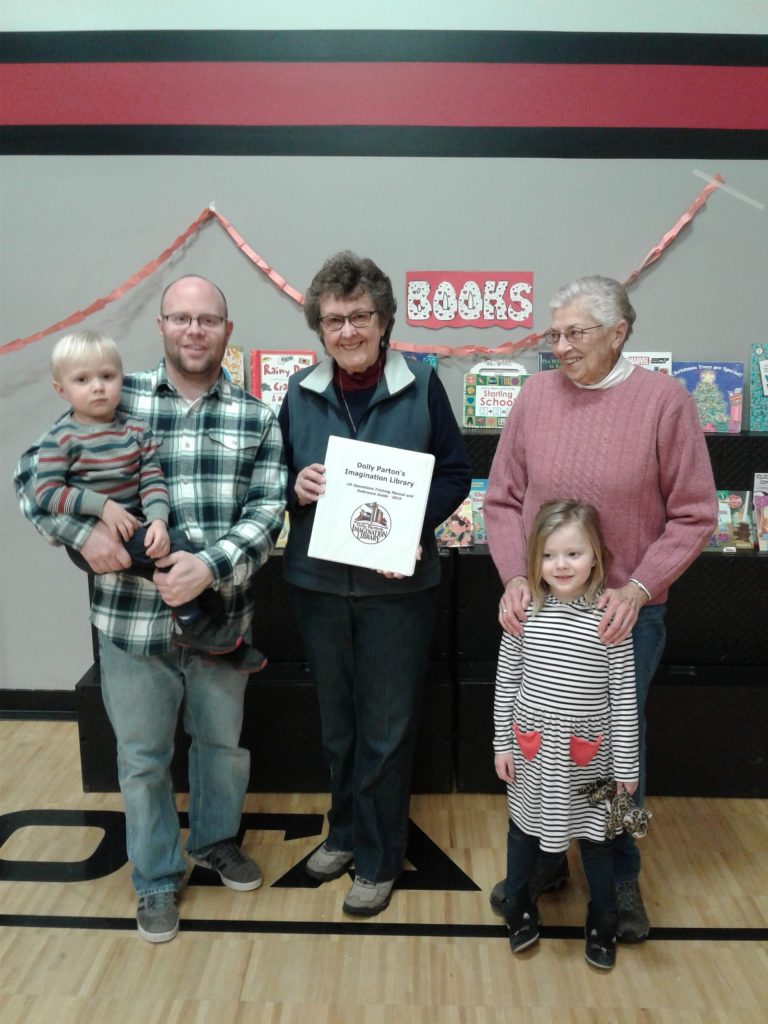 Upper Peninsula Animal Welfare Shelter (UPAWS) Special Project
LLF Michigan provided a Special Project Award to the Upper Peninsula Animal Welfare Shelter (UPAWS) Marquette to assist with inintiating the Reading Buddies "Read to Your Shelter Pet Program" as part of their developing "Kids' Clubs."  This program pairs children with pets and books.  Reading to the pets fosters socialization for the pet while increasing the child's reading skills.  UPAWS objectives through this program include promoting youth involvement at UPAWS and improving the quality of life and behavior of adoptable animals.
UPAWS first received grant funding to implement a pilot program in early 2019 for the Read to Your Shelter Pet Program.  LLF Michigan presented additional funding at the August 29th Ice Cream Social & Community Event to assist with the program in 2019 & 2020.  Due to unforeseen circumstances and the 2020 pandemic implementation of the Read to Your Shelter Pet Program has been delayed.
Read to Your Shelter Pet Ice Cream Social
Thank you all attendees, volunteers and sponsors Econo Foods and Globe Printing.  In addition to receiving ice cream,  participants viewed a movie, colored items at Maddie's Tail Wag activity station, visited the Little Free Library and received Read to Your Shelter Pet program information.  Each child took home a free book. Pictured below are the books gifted to each child and LLF Michigan's presentation check.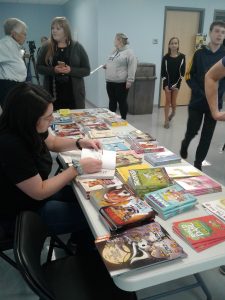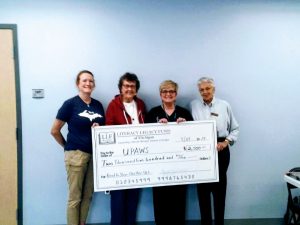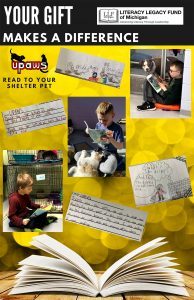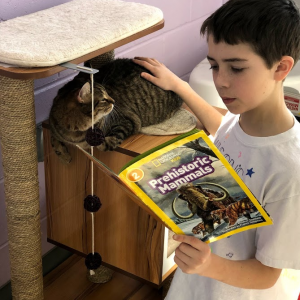 Pictured Rocks National Lakeshore hosts a Storybook Hike program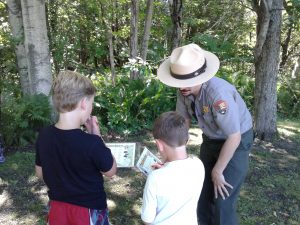 LLF Michigan is teaming up with Pictured Rocks National Lakeshore to host a Storybook Hike program with children's author Lori Taylor at Munising Falls on July 26, 2018 at 2 pm.  The park's Education Specialist, Melissa O'Donnell, coordinated the visit that was attended by the Munising day camp participants and visitors to the falls.

Join in the fun for a Story Hike Adventure!
To see more of Lori Taylor's work, books and learn more about Lori please visit her website.

LLF Michigan announces their first Legacy Grant
After grant funding U. P. Children's Museum for two years of successful Third Thursday Literacy Nights LLF Michigan awarded its first Legacy Grant to the U.P. Children's Museum through 2018. 
IN HONOR OF DR. JACQUELINE TILLES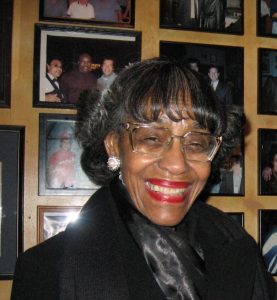 $2,500 annually in 2016, 2017 and 2018 to assist an undergraduate or graduate student enrolled in a teacher education program at Wayne State University. In 2019, we continued to fund this scholarship through a combination of donor contributions and LLF Michigan funds.
Part-time or full time student receives assistance with tuition and other educational expenses
Tilles retired in 2015 as an Associate Professor at Wayne State University

Served 45 years at WSU in the Teacher Education Division (TED)
Taught in the Detroit Public Schools and at Hunter College, NYC
Received the MRA Reading Educator of the Year Award
Received the WSU Excellence in Teaching Award-College of Education
Well-known and respected as a teacher, mentor, and advisor to hundreds of students
Spotlight Award – June 2019 Wayne State University College of Education Scholarship Reception. LLF Michigan has given a scholarship to WSU, titled The Literacy Legacy Fund of Michigan Scholarship in Honor of Dr. Jacqueline Tilles. The scholarship fund was initiated in 2016.
Pictured below, from left to right: Dr. Jacqueline Tilles, Andrew Pearce, Leticia Kelly, Dean Whitman, College of Education.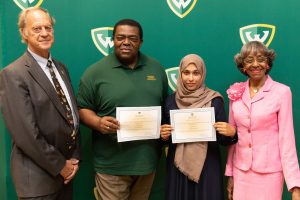 ________________________________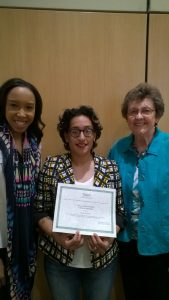 First WSU scholarship recipient from LLF Michigan in 2016
Contributions to LLF Michigan accepted throughout the year to a temporarily restricted fund and transferred annually on March 1 to the WSU Foundation-College of Education.
Lori Taylor Artist-in-residence Program
Artist-in-residence programs exist to invite artists and all manner of creative people for a time and space away from their usual environment and obligations.  In 2015 LLF Michigan entered into an Artist-in-residence program with Lori Taylor.  Lori is a "pond stomping, trail stumbling artist, author, and illustrator in hiking boots. I rehabilitate kids and release them into the wild outdoors by encouraging them to read, write, and draw in nature to find their story.  (direct quote from Lori's website)"  While "in-residence" Lori created a wonderful, artist pop-up book for LLF Michigan, which was inspired by her Artist-in-Residence rustic surroundings, then later displayed and sold at the Michigan Reading Annual Conference in 2016.  During the residency program Lori Taylor shared her experience with the public through demonstrations or talks.  Pictured below are Lori with her book presenting at NMU and the book she created for us.